Great time had by all at the 2019
7th Annual Jazz Legacy Foundation Gala Weekend!
See you all next year November 12-15, 2020

2020 Jazz Legacy Foundation
​8th Annual Gala Weekend!
Hampton Roads Convention Center
Hampton, VA
​November 12th-15th 2020
(November 11th is Veterans Day & Pre=Party)
---
EARLY BIRD SALE HAS ENDED!
REGULAR TICKET RESUME
MARCH 1, 2020

---
**ALL TICKETS ARE NON-REFUNDABLE!
**WE RESERVE TO RIGHT TO CHANGE ARTISTS and/or PRICES AT ANYTIME WITHOUT NOTICE!
**TICKETS MOVE QUICKLY SO DON'T HESITATE!
Greetings Jazz Lovers!
Thank you all so much for being a part of the Jazz Legacy Family. The Early Bird Sale for 2020 was a huge success. Regular ticket sales will resume on March 1st 2020. The link will only be available via this website,
www.jazzlegacyfoundation.org
. This year, we are again using Eventbrite for our ticketing process. For your protection, do not purchase tickets from any other source.
The proposed Line-Up is as follows
(November 12-15, 2020)
Thursday Kick Off -11.12.20
- Pieces of a Dream - (Marcus Anderson /Adam Hawley) -(Jeff Bradshaw / Lin Rountree/ David P. Stevens) ( Rob Zinn/ Oli Silk/ Tony Exum Jr.)
Festival Friday -11.13.20
- Incognito w/ Maysa -Damien Escobar- Special EFX Allstars - (Mike Phillips / Marcus Johnson/ Raheem DeVaughn/ Eric Roberson)
Saturday Night of Elegance -11.14.20
- Marcus Miller - Gregory Porter -Hiroshima - AWB (Jonathan Fritzen & Jazmin Ghent)
Sunday Grand Finale -11.15.20
- Brian Culbertson - WAR - Richard Elliott - Down to the Bone -Queens of Soul & Jazz
Any additional shows or activities i.e Cruise , After Parties and Pre-Party will be available for purchase in March 2020.
(Choose carefully as we have a strict NO REFUND or EXCHANGE policy)
**WE RESERVE TO RIGHT TO CHANGE ARTISTS and/or PRICES AT ANYTIME WITHOUT NOTICE**
If there are questions, feel free to call Jeri at (757) 434-0297 or Alvin (757) 737-2416
---
2020 Hotel Accommodations
---
HOTEL RESERVATIONS INFORMATION!

​Embassy Suites by Hilton
3 Night Minimum / 1 Night Deposit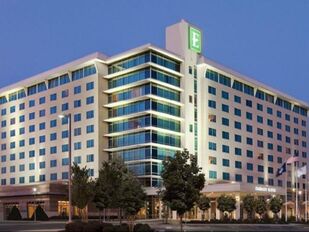 ---
AVAILABLE SOON!
Hyatt Place
Hampton Convention Center

Courtyard by Marriott
Hampton Coliseum Central

Holiday Inn Newport News


---
---
ENJOY 2018 JAZZ LEGACY WEEKEND MEMORIES!
Here and at www.galaimages.com
---
---
---
Get on Board! ​Get Email Updates, Become a Member or Contact Us!
---
JAZZ LEGACY FOUNDATION GALA MEMORIES!
---
Thank you all for your past and present support!
It is because of you that we are able to make a difference in the Hampton Roads community by supporting Jazz & Music Education!
​VIEW MORE HERE!
---
7th Annual Jazz Legacy Foundation Fundraising Gala
Dear Friends,

Welcome to the 2019 Jazz Legacy Foundation Gala. It is our pleasure to present to you the 2019 Jazz Legacy Foundation Fundraising Gala line-up. I would like to take this opportunity to thank each and every one of you for your past and upcoming support. By all accounts, the 2018 Jazz Legacy Foundation Fundraising Gala was a great success! A good time was had by all, and it's all because of you!

It is the mission of the Jazz Legacy Foundation, a 501(c) (3) non-profit organization, to transform young lives through charitable support by way of educational scholarships, creative arts, leadership development, mentoring workshops, and community partnerships, all with the aspirations of enhancing the appreciation and preservation of the art of Jazz. We will also create and conduct workshops, mentoring programs with master musicians, and offer educational scholarships to further musical endeavors and development. We need your help to accomplish our goals, and we hope that you deem our efforts worthy of your donations, sponsorship, and support.

We are very proud that the Jazz Legacy Foundation was able to present for the 6th year, generous donations to be used by the music departments to purchase equipment and to keep much needed music programs alive, well, and accessible to our youth. We were able to expand our giving to include Portsmouth, Norfolk, Hampton and Newport News Public Schools Music Departments. Your contributions and support will allow us to continue to fulfill our mission throughout our region and country. In addition, we have held workshops featuring JACKIEM JOYNER, KAREN BRIGGS, MIKE PHILLIPS, JONATHAN FRITZEN, ISAAC BYRD JR AND JAMES LLOYD in Portsmouth , Norfolk, Hampton, and Newport News. The young music students have loved and embraced the experience, and we hope to continue with more of these activities.

***********************************************************************************************************
FOR FURTHER INFORMATION, SPONSORSHIP, VENDOR, DONATING, AND PROGRAM ADVERTISING OPPORTUNITIES, PLEASE EMAIL JAZZLEGACYFOUNDATION@GMAIL.COM

Please explore our web site to learn more about the Jazz Legacy Foundation, enjoy all the great pictures from the 2013 - 2018 galas, and see how you can help us to fulfill the mission of the Jazz Legacy Foundation.

Sincerely,
Your Friend in Jazz!
Alvin E. Keels ~ President/CEO
Jazz Legacy Foundation Inc.